Wednesday 24-09-2014 15:12:33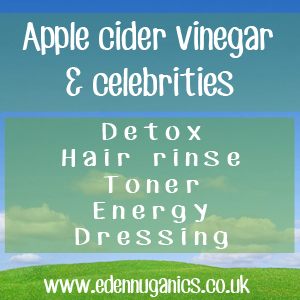 Due to its multiple health applications, apple cider vinegar has been a popular home remedy since time immemorial. Often used in the treatment of conditions ranging from gout to dandruff, this highly nutritious elixir is growing ever more popular by the day. Now, with a number of high profile celebrities using it as part of their daily health and beauty routines, there has never been so much interest in this nutritional powerhouse.
Which celebrities use ACV?
Megan Fox: Megan Fox is perhaps the most well known of all the celebrities currently endorsing ACV. Megan started her acting career back in 2001, but rose to fame in the Hollywood blockbuster 'Transformers.' Now, she is renowned & adored throughout the world for her glowing, radiant skin and stunning complexion. We decided to take a look at Megan's use of apple cider vinegar as part of her daily health and beauty routine.
Way back in 2010, Megan spoke about the way she uses ACV daily. Giving her reason as "It just cleanses out your system entirely." The detoxification properties of vinegar are well documented and Megan is a firm believer that ACV helps to remove excess water weight and sugars from the body assisting her in weight loss.
Scarlett Johansson: Since 1994, when Scarlett made her acting debut in the film 'North', she has been known for her beautiful blemish free skin and radiant smile. Like Megan, Scarlett is also a keen advocate of apple cider vinegar but rather than using it for its powerful weight loss and detox properties, Scarlett uses ACV to create DIY facial toners with the ability to reduce the visible signs of ageing as well as restoring her skin's natural acid / alkaline balance (pH). During a recent interview in the UK for 'Ellen', she said "A while back, I started researching natural skincare. It's a nice way to treat your skin if you don't want to use all those harsh chemicals that a dermatologist would recommend." We happen to agree.
Miranda Kerr: For those who don't know, Miranda is an Australian model who rose to prominence in 2007 as the country's first Victoria's Secrets Angel. In addition to her modelling career, Miranda is also known for releasing her own brand of organic skin care products, 'KORA Organics'. During a recent interview with 'Vogue, Australia,' Kerr said that she always makes "a big salad with finely chopped fennel, cucumber, feta cheese, baby spinach, avocado and a dressing of macadamia oil, apple cider vinegar and Bragg's amino acids."
In addition to including ACV in her diet, Miranda is also known to use this age old health remedy as part of her hair care routine. She explained during the same interview: "You put on a little bit on in the shower as a rinse, and then wash it out. It stinks a little bit, but then you use conditioner and the smell goes away."
Another great tip we recently stumbled across was when she wrote on her 'KORA health blog,' a great way to kick start your day was to mix the juice of half a lemon with warm water and a tablespoon of raw organic apple cider vinegar: "Warm lemon water in the morning helps kick start the digestion process for the rest of the day."
As you can now see, apple vinegar is no longer an old health remedy used by our grandparents. In fact ACV is perhaps more relevant in today's fast paced world than it was in the past. Here are the top 5 reasons apple cider vinegar is used and endorsed by celebrities:
Detox - If you want a slim, sexy figure like Megan Fox why not try adding a few tablespoons of ACV in a glass of water to your daily diet.
Toner - Want a dazzling complexion like Scarlett Johansson? Try making your own DIY face toner using apple cider vinegar and spring water.
Hair Care - Wanting long, lush looking locks like Miranda Kerr? Why not try an ACV hair rinse to leave your hair feeling conditioned with no unwanted product build up.
Salads - Who doesn't like salads? Well, in fact a surprisingly large percentage of people tend to avoid fresh green salads despite their known benefits to our health. Why not add some tang to those leaves with an ACV dressing that could even help you lose weight.
Kick start your day - As Miranda mentioned in her blog post, if you want to jump start your metabolism in the mornings and don't like the anxiety associated with excessive caffeine a great alternative is to drink a glass of warm water mixed with ACV and lemon juice.
Other known advocates of Apple Cider Vinegar
Heidi Klum - German model and fashion designer Heidi Klum mentioned when talking about weight loss that even a sniff of apple cider vinegar curbs her food cravings.
Fergie - Fergie is another firm believer in the benefits of ACV. The female vocalist from the popular group Black Eyed Peas has been quoted as saying: "I do vinegar shots. It has to be organic apple cider, unfiltered, two tablespoons. For some reason I've noticed a difference to my stomach."
Sir Ranulph Fiennes - It's not just famous models and actresses that are benefiting from the use of apple cider vinegar. Sir Ranulph is an English explorer and adventurer who holds many endurance records. Around 20 years ago Sir Ranulph was diagnosed with arthritis which he claims to have treated using apple cider vinegar and honey with great success, as his mother did before him. He said "It has completely kept my arthritis at bay."
When shopping for apple cider vinegar, it's a good idea to follow Fergie's advice and only purchase the raw, unfiltered bottles of ACV as cheaper pasteurized varieties are lacking many of the health giving properties.
References:
Scarlett Johansson Talks Beauty With ELLE
http://www.elleuk.com/beauty/exclusive-scarlett-johansson-talks-beauty-with-elle#image=1
Forget green juice, the secret to health and glowing skin is drinking VINEGAR
http://www.dailymail.co.uk/femail/article-2722848/Forget-green-juice-secret-health-glowing-skin-drinking-VINEGAR-Megan-Fox-Miranda-Kerrs-favourite-ferments-going-mainstream.html/
An apple a day
http://o.b5z.net/i/u/10138986/f/PR081111_-_Honegar_Celebrity_Diet_Release.pdf
Miranda Kerr Diet and Exercise
http://love-miranda-kerr-fan.tumblr.com/diet.and.exercise